Maintenance Connection CMMS Implementation
Every implementation of Maintenance Connection starts with a solid definition of your organisation's business processes and practices. The Maintenance Connection application software service is simply the tool to support your organisation's business processes and practices, not the other way around. 

Whether your organisation is large or small, our team of friendly and experienced implementation professionals will ensure your implementation goes smoothly and turns out a success.  The end result is your organisation taking ownership of the solution.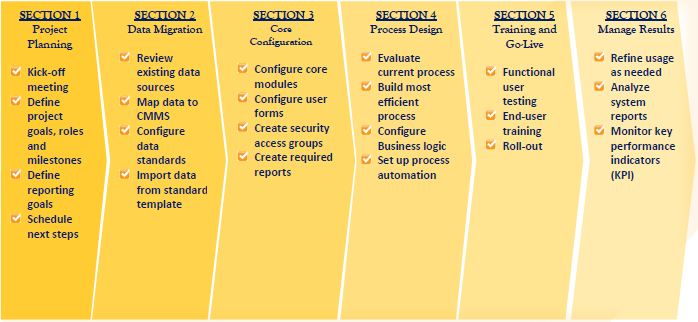 We're excited to have the opportunity to help you see the results thousands of companies have experienced by implementing Maintenance Connection's CMMS software. Through many years of experience both in the world of software and the world of maintenance, our implementation consultants make excellent leaders of CMMS implementation projects. Every project and every company is unique and we use this six phase implementation strategy as a guideline to create a tailored approach for every new customer. Let's get started today and allow us to help you create another Maintenance Connection success story. 

Phase 1: Project Planning

Communicating the project goals, roles and milestones is a critical step of a successful CMMS implementation. Through an extensive needs assessment process, our implementation consultant have a wealth of experience which they utilise to help frame up the project for a success. In larger-scope projects, this project planning phase results in a documented project plan, scope and milestones. Other times, just a simple phone call is needed to plan the implementation. We tailor our approach to each customer. 

Phase 2: Data Migration

Many customers have home-grown systems for managing maintenance, others have legacy CMMS software, while others are new to tracking things electronically. Wherever you are in the process, you can lean on our data migration experts to help coordinate a smooth transfer or development of your database. Data can be imported from an existing format or collected into a spreadsheet, or a combination of each approach. Import any and all pertinent data including equipment, parts, employees, vendors, and even WO histories. 

Phase 3: Core Configuration

We've been implementing CMMS for many years, and we have a strong base configuration of Maintenance Connection which is used to start the project ahead of the game. However, we also realise that every organisation is unique and has specific plans and goals from CMMS. Maintenance Connection is a flexible application, which provides opportunities to toggle components on or off, configure security, hide unnecessary fields, customise reports. Often times, this phase is also where system integrations are developed. 

Phase 4: Process Design

Every maintenance organisation operates to some sort of process, whether they know it or not. Our strategy for integrating Maintenance Connection into the business is to look at your current processes as they are, suggest improvements if necessary, then determine how the software can best fit into the process—rather than fitting the process into a rigid software. In more complex larger scope projects, flow charting may be used as a tool to visualise the process. Other times, this phase is a simple discussion with the project team. 

Phase 5: Practical Testing

We spend hours making sure our software is ready to go onsite and operate the way it should. But it's a worthwhile effort to test the flow of the software and process within your business prior to rolling it out to the end-users. 

Phase 6: Manage Results

An ultimate roll-out to end-users typically occurs concurrently with training, which can take place in a variety of formats. It is also important to monitor user feedback and analyse data via KPIs and Reports to make better decisions.